When I woke up yesterday, I had one thing on my mind.
I got to work early so that I could have everything up and ready. I had the runDisney page open, the active.com page open, the runDisney Twitter and Facebook feeds open… super early, but I didn't want to miss it. I had a plan and I expected the race to sell out fast (because they typically do). I was ready and then I just had to wait for the clock to tick to 9am. I had a coworker obsessing with me and another coworker cheering us on!
Today registration opened for the Tinker Bell Half Marathon Weekend and I am thrilled to announce that I'm now officially registered for the Pixie Dust Challenge! WOAH, slow down, you might say. What is that?!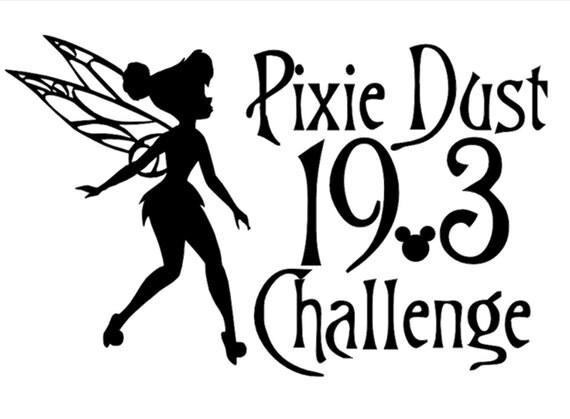 Tinker Bell Half Marathon Weekend is at Disneyland on Mother's Day Weekend. The Pixie Dust Challenge is completing a 10k on Saturday and a half marathon on Sunday. 19.3 miles!
You may remember I considered a challenge for Florida, but opted against in in favor of working toward a PR. For the California leg of the journey though, back to back races will be my challenge. I'm seriously so so excited! I'm even more excited because I managed to convince two good friends into doing it with me (and one of those friends' convinced her roommate!)! The aforementioned coworkers are both doing the 10k. 🙂 It was exciting and stressful. You would have thought we were trying to by concert tickets! Haha! But we got in and it was easy and now, oh it's going to be such a great weekend!
Not only will it be a great weekend in and of itself, but it will also mark the completion of my Coast to Coast Challenge! Wait! Now WHAT is that???? A Coast to Coast Challenge is a half marathon or full marathon distance on each coast in the same calendar year (so one race at Disney World and one race at Disneyland). As it turns out, my choices are both women's races, so I'll get a pink Coast to Coast medal (I guess that means I'll need to do another C2C in the future for the regular blue one ;)). This beauty will be mine!
Counting down… 192 days to PHM (Princess Half Marathon) and 267 to PDC (Pixie Dust Challenge). It's gunna be a long wait. Good thing I have plenty to keep me busy until then. After all, it's not just faith, trust, and pixie dust, it's hard work and training too. There will be a lot of happy thoughts in the mean time. 🙂